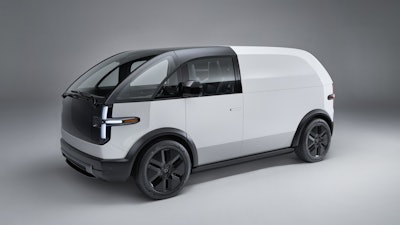 Canoo
Canoo is delivering its first Made in Oklahoma electric vehicles to the state of Oklahoma.
This is a milestone that marks the start of Canoo's phased-ramp manufacturing in Oklahoma and its shipment of Lifestyle Delivery Vehicle (LDV) models to key customers and partners in 2023 with increasing units in 2024.
For Similar Content: Subscribe to Daily Newsletters
Canoo is hiring for its Oklahoma City and Pryor facilities in the state and expects to create more than 1,300 jobs. The LDVs are the first commercial motor vehicles built in Oklahoma since 2006 and will go to the Office of Management and Enterprise Services (OMES).
"It's an honor to partner with the state of Oklahoma and its workforce to create a legacy for electric vehicles in America's Heartland," said Tony Aquila, Chairman and CEO of Canoo. "What is inspiring to me is that it takes just a small group of innovators and hardworking believers who find a way to win. I want to thank Governor Stitt and his team for believing in us. We want our vehicles to provide service to Oklahomans who have been our partners on this journey."
The LDVs set a new standard for mobility. Built on a multi-purpose platform, the vehicles are configurable to help commercial and government fleet customers improve efficiency and cut operating costs. All Canoo vehicles are designed for performance and functionality, with comfort, safety, and security that is configurable in unique ways.
"We are excited to add Canoo vehicles to the state's pooled fleet as part of a broader initiative to improve efficiency, cut waste and improve stewardship of taxpayer dollars," said OMES Executive Director John Suter. "We look forward to evaluating these new assets and the role they can play in modernizing Oklahoma's vehicle use."