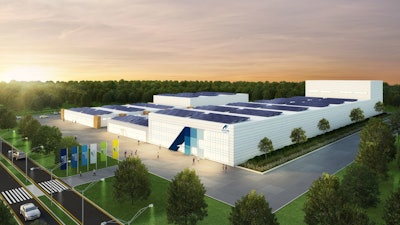 Ascend Elements
Ascend Elements today announced plans to invest $310 million in Phase 1 — and up to $1 billion over several possible phases — to build a sustainable lithium-ion battery materials facility in Hopkinsville, Kentucky., with groundbreaking expected in Q4 2022.
The manufacturing facility, known as "Apex 1," will be home to the company's Hydro-to-Cathode direct precursor synthesis process technology — taking in black mass from recycled electric vehicle batteries and producing enough lithium-ion battery precursor and sustainable cathode active material to equip up to 250,000 electric vehicles per year.
This closed-loop manufacturing system generates minimal waste and carbon emissions compared to traditional cathode manufacturing.
Apex 1 will feature onsite chemical recycling capabilities and a wastewater treatment plant.
Located on over 140 acres in the Commerce Industrial Park II in Hopkinsville, the 500,000-square-foot Apex 1 facility will begin operations in late 2023. With the potential expansion phases, the facility would employ up to 400 people in a variety of roles – from engineers and chemists to warehouse associates and manufacturing operators.
The project is expected to potentially generate $4.4 billion in economic impact to Kentucky over the construction period and first 10 years of operation.