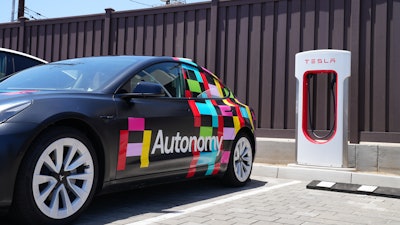 Business Wire
Autonomy, an electric vehicle subscription company that offers the Tesla Model 3 and soon other models and brands, is now available to consumers living in California's High Desert communities, including Lancaster, Palmdale, Victorville, Adelanto, Apple Valley, Hesperia, Phelan, and Barstow.
The company said its monthly subscription costs less than Tesla's own leasing or financing plans.
Today, the High Desert region has more than 200 charging locations, with 13 Tesla Superchargers placed along the I-15 and SR-14 highways, giving commuters — and those traveling to and from Las Vegas — plenty of options for charging up.
California already has the most charging stations in the country, accounting for about 30% of total charging stations/ports. And more are on the way. This fiscal year, California will receive $56 million as part of the federal infrastructure bill, the second-highest amount in the nation, behind only Texas.
Autonomy's expansion into the High Desert follows the announcements last month of the start of services in the Coachella Valley, the Inland Empire, Fresno, and the surrounding cities, as well as in Sacramento, California's Central Coast, and Orange County. The company earlier this year launched services in Los Angeles and San Diego, and added the San Francisco Bay Area to its market coverage.
Autonomy's monthly payment covers the traditional costs of ownership, including annual registration and licensing fees, routine maintenance, roadside assistance, and standard wear and tear on tires, which are all additional expenses with a traditional lease or loan.
A payment dial allows customers to personalize their Model 3 and Model Y. Model 3 subscriptions range from as low as $490 per month with an initial $4,900 start fee, to $1,000 per month with an initial $1,000 start fee. Whichever payment option you choose, a low refundable deposit of $500 and taxes also apply.
Autonomy drivers have the ability to subscribe month to month after a three-month minimum hold period and then can cancel any time with 28 days' notice.