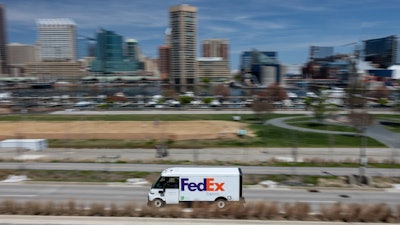 General Motors
BrightDrop, a wholly owned subsidiary of General Motors, and FedEx teamed up to set a new world record for distance traveled by an electric van on a single charge.
BrightDrop Zevo 600 driver Stephen Marlin achieved the Guinness World Records title with a journey from New York City to Washington, D.C. Driving the Zevo 600, formerly known as the BrightDrop EV600, Marlin completed the near 260-mile trip on a single charge.
BrightDrop delivered its first electric light commercial vehicles to FedEx in December after completing its first production builds of the Zevo 600 in 20 months, making it the fastest vehicle to market in GM's history.
"FedEx is proud to be a part of this record-setting moment as we work toward our goal of achieving carbon-neutral operations by 2040. Electrifying our entire parcel pickup and delivery fleet is a crucial component of that goal and we're thrilled BrightDrop is bringing real solutions to the market that can help us get there," said Mitch Jackson, chief sustainability officer, FedEx.
As part of the journey, the Zevo 600 transported a shipment of Full Circle sustainable cleaning products from its headquarters in New York City to a MOM's Organic Market location in Washington, D.C., a Mid-Atlantic chain organic grocery stores.
Built on the Ultium Platform, the Zevo 600 offers more than 600 cubic feet of cargo area and an available 2,200 pounds of estimated payload capacity. BrightDrop has secured more than 25,000 EV production reservations, including 2,500 from FedEx, in just 12 months. The Zevo 600 is currently in production.