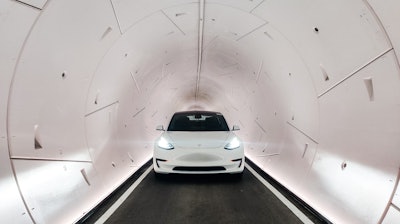 The Boring Company
Elon Musk's The Boring Company announced a Series C funding round of $675 million, led by Vy Capital and Sequoia Capital with participation from Valor Equity Partners, Founders Fund, 8VC, Craft Ventures, and DFJ Growth. The company said the financing now values The Boring Company at $5.675 billion.
The funds from the round will be used to significantly increase hiring across engineering, operations, and production to build and scale Loop projects, including Vegas Loop and others, in addition to accelerating the research and development of Prufrock and future products.
Loop is an all-electric, zero-emissions underground public transportation system in which passengers are transported to their destination with no intermediate stops. TBC's first major Loop project, Vegas Loop, is located in Las Vegas. On October 20, 2021, the Clark County Commissioners unanimously approved Vegas Loop, a 29-mile tunnel network connecting 51 stations. Vegas Loop is the largest subsurface transportation project in the United States. Vegas Loop will enable safe, low cost, and high speed transportation throughout Las Vegas, targeting throughput of up to 57,000 passengers per hour. For end users, this means a trip from Harry Reid International Airport to any major destination on the Las Vegas strip in 5 minutes or less with zero stops. This also translates to less congestion overall on traditional surface roads. Vegas Loop is enabled by TBC's proprietary tunnel boring machine called Prufrock.
Prufrock is a next generation tunnel boring machine designed to construct mega-infrastructure projects in a matter of weeks instead of years, and at a fraction of the cost. The current iteration of Prufrock, called Prufrock-2, is designed to mine at up to 1 mile/week, meaning a tunnel the length of the Las Vegas strip (approximately 4 miles) can be completed in a month. Prufrock-3 is designed to be even faster, with the medium term goal of 1/10 human walking speed, or 7 miles/day. In the short term, if each Prufrock-2 mines at 1 mile/week, and TBC produces 1 new Prufrock machine per month, then TBC will be introducing 600 miles/year of capacity. As a point of reference, less than 20 miles of underground subway tunnel has been constructed in the United States in the last 20 years.
"Defeating traffic is the ultimate boss battle. Even the most powerful humans in the world cannot defeat traffic," said Musk.