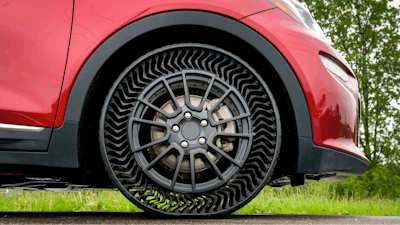 Steve Fecht for General Motors
Tire manufacturer Michelin is seeking a waiver from U.S. highway authorities in order to develop new regulations for its prototype airless tire.

The Charleston Post and Courier reports that the French company's U.S. subsidiary in South Carolina filed its request with the National Highway Traffic Safety Administration early this month. Michelin officials argued that developers of new automotive technologies can find it "very difficult, complicated or impossible" to comply with regulations aimed at long-established systems — such as conventional, pneumatic vehicle tires.

The company's letter, according to the paper, also noted that other safety features, including anti-lock brakes, electronic stability control systems and backup cameras, were allowed to enter the marketplace without system-specific regulations in place.

Michelin outlined its plan for the airless tire, named Uptis, in 2017. This summer, the company unveiled a prototype and announced a research agreement with General Motors in hopes of producing the Uptis by 2024. Michelin officials say sustainable composite materials and a novel interior architecture allow the tire to travel at highway speeds without the risk of blowouts or flat tires.

The report indicated that the NHTSA has not made a decision regarding Michelin's request.