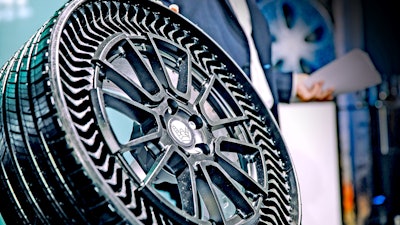 Michelin
Michelin and General Motors hope to begin producing tires for passenger vehicles that do not need to be inflated with air within five years.

The automaker and tire manufacturer announced a joint research agreement and unveiled the Uptis prototype tire at the Movin'On Summit in Montreal this week.

Under the agreement, the companies will collaborate to validate the Uptis — or "Unique Puncture-proof Tire System" — in hopes of introducing a commercial version by 2024. Tests are already underway with the Chevrolet Bolt, and officials said a fleet of the GM electric vehicles would begin real-world testing of the tire on Michigan roads later this year.

"Uptis is an ideal fit for propelling the automotive industry into the future and a great example of how our customers benefit when we collaborate and innovate with our supplier partners," Steve Kiefer, GM's global purchasing and supply chain senior vice president, said in the announcement.

Airless tires, the companies said, would eliminate the risk of flat tires and blowouts and enable fleet owners to operate more efficiently. The system would also reduce the roughly 200 million tires scrapped prematurely each year due to punctures or other damage.

Michelin said the tire can support vehicles at highway speeds thanks to innovative architecture and composite materials. The prototype also helps meet the company's 2017 goal of an airless, connected and 3D-printed tire made entirely from sustainable materials.

"Uptis demonstrates that Michelin's vision for a future of sustainable mobility is clearly an achievable dream," Michelin Group CEO Florent Menegaux said in the statement.