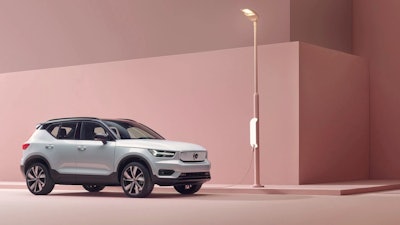 Volvo Cars
Volvo on Wednesday officially introduced its first fully electric vehicle as it moves toward phasing out models powered solely by internal combustion engines.

The debut of the XC40 Recharge followed the announcement that the automaker also plans to slash its vehicles' carbon impact by nearly half over the next five years.

The electric version of the XC40 compact SUV is the first of numerous electric models under the Recharge brand. Volvo previously pledged that every newly introduced vehicle would be available as an electric model, and said it hopes those electric cars account for half of its global sales by 2025.

The newly introduced vehicle, officials said, can travel nearly 250 miles on a single charge with 408 horsepower. Its battery can charge to 80 percent of capacity in 40 minutes on a fast-charging system.

"For Volvo Cars, the future is electric," Volvo President and CEO Hakan Samuelsson said in a statement. "Today, we take a major new step in that direction."

The Swedish company, a subsidiary of Chinese automaker Geely, also announced Wednesday that it will aim to reduce the lifetime carbon footprint of its cars by 40% from 2018 to 2025. That goal will require the company to meet its electric sales threshold by 2025, which would cut tailpipe emissions per car in half.

Volvo also hopes to run carbon-neutral manufacturing operations, cut its supply chain emissions by 25% and reach a 25% share of recycled plastics in its vehicles by 2025.

Officials said the details released this week mark a first step toward Volvo's goal of overall climate neutrality by 2040.

"We are transforming our company through concrete actions, not symbolic pledges," Samuelsson said.