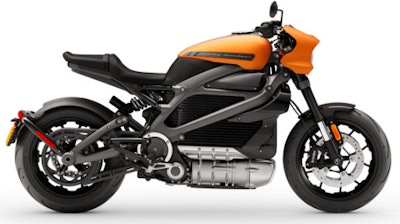 Harley-Davidson
According to multiple reports, Milwaukee-based Harley-Davidson said Monday that it has stopped production and delivery on its first electric motorcycle, named LiveWire, after finding a glitch during final quality checks.
The iconic manufacturer discovered a problem with the product's charging mechanism, describing the issue as a non-standard condition.
The new motorcycle — priced at $29,799 — became available for preorder in the U.S. in January this year and began shipping to dealers in late September.
Harley-Davidson reportedly told TechCrunch that it is not recalling LiveWire motorcycles that are already on the road. CNBC cites an emailed statement from the company that said the following:
"We recently discovered a non-standard condition during a final quality check; stopped production and deliveries; and began additional testing and analysis, which is progressing well. We are in close contact with our LiveWire dealers and customers and have assured them they can continue to ride LiveWire motorcycles. As usual, we're keeping high quality as our top priority."
Reports said Harley-Davidson did not detail when production and sale of the LiveWire could resume.