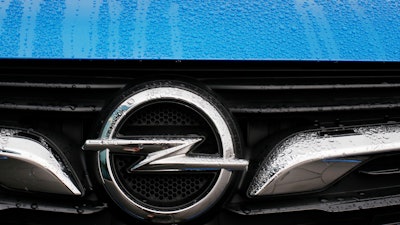 AP Photo/Michael Probst, File
German prosecutors said Monday that law enforcement officials have conducted searches at automaker Opel as part of an investigation into suspected manipulation of diesel emissions.
Meanwhile, the country's transportation ministry said it intended to order 100,000 Opel vehicles recalled, saying Opel had dragged out voluntary fixes.
The dpa news agency reported that investors went to company facilities Monday in the cities of Russelsheim and Kaiserslautern. Nadja Niesen, a spokeswoman for prosecutors in Frankfurt, was cited by dpa as saying investigators suspect Opel may have used software to turn off emissions controls at certain engine speeds and temperatures.
Opel, which is part of France's PSA Group after being sold by General Motors last year, confirmed the searches but declined to offer details.
Diesel came under scrutiny in Europe after Volkswagen admitted to illegally manipulating software to cheat on U.S. emissions test. Cars from other automakers were subsequently found to turn off controls at certain temperatures, ostensibly to protect the engine but also increasing emissions.
Germany's transportation ministry said in a statement that it had found four instances in which emissions were turned off in the affected models, and that Opel had dragged out a voluntary recall to fix them to the extent that only 70 percent of those vehicles have had their software adjusted to lower emissions.
The ministry said that after a fifth instance was found it started hearings against the company to require it to recall certain Cascada, Insignia and Zafira models. It said that "this hearing was also dragged out by Opel with ever new technical arguments."
Opel said in a statement that "the company is cooperating completely with the authorities. The company emphasizes that its vehicles comply with the applicable regulations."