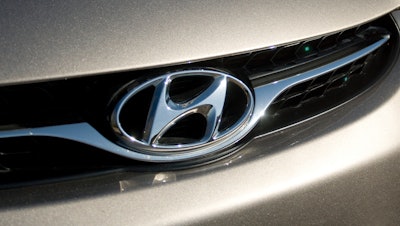 iStock
A nonprofit auto safety group is demanding that Hyundai and Kia recall 2.9 million cars and SUVs in the U.S. due to consumer complaints that they can catch fire.
The Center For Auto Safety said Friday that there have been more than 220 complaints to the U.S. government since 2010 about fires and another 200 complaints about melted wires as well as smoke and burning odors.
The complaints involve the 2011 through 2014 Kia Sorento and Optima and the Hyundai Sonata and Santa Fe. Also included is the 2010 through 2015 Kia Soul.
The fires are being investigated by the National Highway Traffic Safety Administration as part of a 2017 probe into Hyundai and Kia engine failures.
"The volume of fires here make it appear that Hyundai and Kia are content to sit back and allow consumers and insurers to bear the brunt of poorly designed, manufactured and repaired vehicles," Jason Levine, the center's executive director, said. The fire reports have come in from across the country, including a death in Ohio in April of 2017, he said.
Hyundai says it monitors safety concerns and acts quickly to recall defective vehicles. "We have a robust system in place for monitoring and investigating reported vehicle fires that includes investigation and reporting to NHTSA as required," a company statement said.
Kia said it is using company and third-party fire investigators to determine what caused the fires so it can address them.
"A vehicle fire may be the result of any number of complex factors, such as a manufacturing issue, inadequate maintenance, the installation of aftermarket parts, an improper repair, arson, or some other non-vehicle source, and must be carefully evaluated by a qualified and trained investigator," the company said in a statement.
In June, the Center for Auto Safety filed a petition asking NHTSA to investigate the fires separately from the engine failures. The agency said Friday that it is evaluating the petition and it has requested information from automakers.
In May of 2017 the government began investigating whether Hyundai and Kia moved quickly enough to recall over 1.6 million vehicles because of engines stalling.
NHTSA is looking into three recalls by the related Korean brands, and it's also investigating whether the automakers followed safety reporting requirements.
Hyundai recalled about 470,000 vehicles in September of 2015 because manufacturing debris could have restricted oil flow to connecting rod bearings. That can cause bearings in four-cylinder engines to wear and fail. The repair is an expensive engine block replacement.
In March of last year, the automakers issued two more recalls covering 1.2 million additional vehicles with the same engine problem.
If NHTSA finds that the companies moved too slowly to recall vehicles, then it can issue fines or order additional recalls. The agency has said the fires appear to be related to engine failures.
Melissa Markoutsis, 39, of Kenosha, Wisconsin, said the engine on her 2012 Kia Soul exploded and failed in an Interstate 94 construction zone south of Milwaukee on May 14, spewing thick black smoke as she was driving amid semis and Jersey barriers.
"I panicked. I couldn't see anything," she recalled.
Markoutsis said she safely coasted to an exit ramp and had the Soul, a small SUV, towed to a Kia dealer, where she was told it would cost $6,500 to replace her engine. The Soul isn't included in the previous recalls.
Markoutsis refused to pay and complained to the Kia corporation, which provided a loaner car while it investigates her complaint. She hasn't heard from Kia since Oct. 4, she said.
She also complained to NHTSA asking that the Souls be recalled and has found others via social media whose engines have failed. "Somebody is going to die," she said.
Levine said the center has found a dozen complaints of fires in vehicles that had the recall repairs, indicating that the fires may not be related to the engine problem.
NHTSA, in documents posted last year, said Hyundai limited vehicles in the 2015 recall to a group manufactured prior to April 12, 2012. The company said it solved the manufacturing problem after that date.
Kia said at the time of the 2015 recall that its 2.4-liter and 2-liter "Theta II" engines that were the same design as Hyundai's were not recalled then because they didn't have the same issue.
Then both companies issued more recalls 18 months later for the same problem, including models the automakers originally said weren't affected.
The recalls from last year cover some of the automakers' most popular models in the U.S. and Canada, including 2013 and 2014 Hyundai Santa Fe Sport SUVs and Sonata midsize cars. Also covered are Kia Optima midsize cars from 2011 through 2014, Kia Sportage SUVs from 2011 through 2013 and Kia Sorento SUVs from 2012 through 2014.
Kia is a smaller affiliate of Hyundai. Together they are the world's fifth-largest automaker.