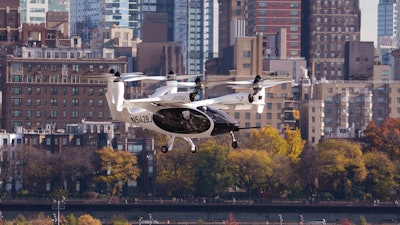 Joby
Joby Aviation, a company developing electric vertical take-off and landing (eVTOL) aircraft for commercial passenger service, today announced that it successfully performed an exhibition flight in New York City yesterday, marking the first ever electric air taxi flight in the city and the first time Joby has flown in an urban setting.
The aircraft was flown on Sunday, November 12th, from the Downtown Heliport in Manhattan, NY, where today, New York City Mayor, Eric Adams, announced the city's intention to electrify the heliport, laying the groundwork for New York to become the global leader in the adoption of clean, quiet flight. Joby's Manhattan flight and participation in the press conference – during which the aircraft is expected to fly again – follows several days of preparation flights at the HHI Heliport in Kearny, New Jersey.
Joby previously announced through its partnership with Delta Air Lines that it expects New York to be one of its early launch markets after receiving certification from the Federal Aviation Administration (FAA). The company plans to offer fast, quiet journeys using its piloted, four-passenger electric aircraft which has zero operating emissions. Joby's aircraft is optimized for rapid, back-to-back flights and can fly up to 100 miles on a single charge, covering 99% of all trips taken today across New York City's five boroughs. While traveling from Manhattan to John F. Kennedy International Airport (JFK) can take more than an hour by car, Joby expects the trip to take just seven minutes by air.
Joby and Delta are working closely with the Port Authority of New York and the New York City Economic Development Corporation (EDC) as they plan for initial operations, including the development of infrastructure at JFK and LaGuardia International Airport (LGA). This builds on significant recent investments Delta has made in upgrading the customer experience at its New York hubs.
Joby's aircraft was designed to have a radically lower acoustic footprint than today's helicopters, allowing it to operate in densely populated areas such as New York City without adding to the background noise. In 2022, Joby collaborated with NASA to measure the sound of its aircraft, confirming it registered the equivalent of 45.2 A-weighted decibels (dBA) when flying overhead at an altitude of 1640 feet (500 meters) – quieter than a typical conversation.
Joby has flown more than 30,000 miles with its full-scale prototype eVTOL aircraft, beginning in 2017. The company recently celebrated the first aircraft to roll off its Pilot Production Plant in Marina, California, and delivered the first-ever electric air taxi to the US Air Force for on-base operational testing. Joby expects to launch its commercial passenger service in 2025.