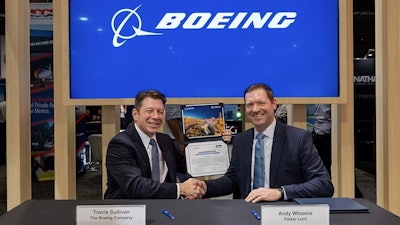 Boeing
ARLINGTON, Va. — Boeing and Parker Lord announced the renewal of their long-standing distribution agreement at NBAA this week. Boeing Distribution (formerly Aviall) will continue to offer shock, vibration and motion control products for general aviation production and aftermarket needs.
"Continuing our distribution partnership with Parker Lord enables us to leverage our robust product portfolio and global network to provide general aviation customers the products they need, where they it," said Travis Sullivan, vice president and general manager of Boeing Distribution Services.
Boeing's business and general aviation market support spans nearly a century with end-to-end parts and supply chain solutions that help customers keep their aircraft flying reliably, safely, and cost-effectively.
"Boeing Distribution's presence worldwide and their commitment to service both legacy and new platforms help not only the operators but also original component manufacturers like Parker Lord," said Rodolphe Leroy, Americas OEM and Global Aftermarket sales director.
Boeing has a diverse and expansive portfolio that includes more than 15 million parts, chemicals, services and tailored solutions that reduce cost, risk and complexity through a global network with localized support. Boeing supports defense, commercial, rotorcraft and business and general aviation customers with their production and aftermarket needs, and provides 24/7 e-commerce access to parts and supplies via shop.boeing.com.