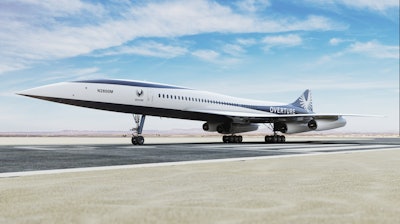 Boom Supersonic
Boom Supersonic, the company building the world's fastest airliner, announced today multiple milestones across the Overture airliner, Symphony engine, and XB-1 supersonic demonstrator programs. The company also confirmed closing of an investment round, including a strategic investment from the NEOM Investment Fund (NIF). Boom's total funding to date now exceeds $700 million.
"Our goal is to bring the world closer together through faster flights," said Blake Scholl, founder and CEO of Boom Supersonic. "We're excited to collaborate with partners and investors around the globe as we work to realize our shared vision."
Announced on October 24, the NEOM Investment Fund is the strategic investment arm of NEOM, the sustainable regional development in northwest Saudi Arabia. As part of the agreement, Boom and NIF will collaborate on opportunities to make the Gulf region dramatically more accessible, through the power of supersonic flight. The NIF investment now takes Boom's total funding from investment and other capital sources to more than $700 million.
Boom achieved key milestones toward XB-1's historic first flight, which remains on track for later this year at the Mojave Air & Space Port. After the receipt of its airworthiness certificate from the Federal Aviation Administration (FAA), XB-1 has recently completed successfully a number of integrated tests, including ground vibration mode testing, fuel system integrated testing, engine operability testing, and medium-speed taxi testing up to 90 knots. Following its Flight Readiness Review (FRR) last week, XB-1 will conduct high-speed taxi testing in final preparation for its first flight.
Boom also announced that Symphony, the Boom-developed propulsion system purpose-built for sustainable and economical supersonic flight, has successfully conducted its key 2023 engineering milestone, known as the Conceptual Design Review (CoDR). This important achievement paves the way toward Symphony's first hardware rig tests planned for 2024.
In late September, Boom commemorated the "topping out" of the Overture Superfactory at the Piedmont Triad Airport in Greensboro, North Carolina, signifying the completion of the building's frame. Over the past six weeks, the company has finished the decking on the top of the structure, poured the concrete flooring, and installed the metal side wall panels. The work to complete the Overture Superfactory is now ahead of its original schedule with completion anticipated in the second quarter of 2024.