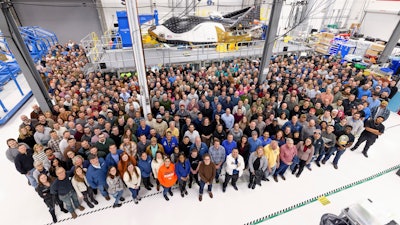 Sierra Space
Sierra Space today revealed its first completed Dream Chaser spaceplane, which will ship to NASA's Neil Armstrong Test Facility in Ohio for environmental testing in coming weeks.
The company called Dream Chaser the world's only commercial runway-capable spaceplane. It's supported by a contract from NASA to resupply the International Space Station.
The Dream Chaser spaceplane fleet is designed to facilitate the transportation of cargo and, in the future, crew to Low Earth Orbit (LEO). This multi-mission platform offers customization options to cater to the needs of both domestic and international customers. Under NASA's Commercial Resupply Services 2 (CRS-2) contract, Dream Chaser has been selected to provide essential cargo delivery, return, and disposal services for the International Space Station.
Dream Chaser is designed to withstand temperatures exceeding 3,000 degrees during re-entry, all while being cool to the touch mere minutes after landing. The autonomous flight system ensures a minimum 15-mission lifespan.
The inaugural Dream Chaser spaceplane, "Tenacity," is poised to embark on its initial seven cargo missions to and from the International Space Station, carrying essential supplies such as food, water and scientific experiments. One of Dream Chaser's groundbreaking features is its capability to safely return critical cargo to Earth at fewer than 1.5g's, ensuring the preservation of invaluable payloads. This spaceplane offers unparalleled flexibility and can land at any compatible commercial runway worldwide, just like a narrow body commercial airliner.
Dream Chaser's high reusability and adaptability set it apart. The launch for this journey is schedule to occur from NASA's Kennedy Space Center. Sierra Space's launch provider, United Launch Alliance (ULA), will carry Dream Chaser into orbit on the second Vulcan Centaur rocket. Tenacity's maiden resupply mission will culminate with the vehicle's return, landing at the NASA Space Shuttle Landing Facility.