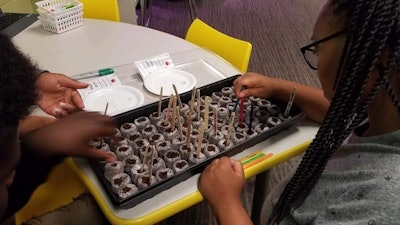 Raytheon
The iceberg is melting. A young would-be scientist reaches out to the International Space Station, asking for a photo when its orbit passes overhead the next day. Later, she downloads the picture and compares it to one from last year to figure out how quickly the iceberg is shrinking.
Kids and teens are conducting experiments like the popular "EarthKAM" across the country this summer. In honor of the 50th anniversary of the Apollo 11 moon mission, Raytheon and the John F. Kennedy Library Foundation launched JFK Space Labs in Boys & Girls Clubs nationwide. But this isn't just youth STEM education — it's real science.
Inspired by programs through the Space Station Explorers network, which is the ISS U.S. National Laboratory education portal, the JFK Space Labs carry on Kennedy's legacy and his spirit of inspiration. The experiments available to young explorers are varied. At the Boys & Girls Club, youth are growing seeds that have been in space in "Tomatosphere," studying how animals react in zero gravity in "Orion's Quest," and requesting photos of our changing world in "EarthKAM." And while they're also listening to astronauts on the ISS read aloud STEM-based books in "Story Time From Space," the difference here is these experiments aren't busywork.
The kids and teens are acting as citizen scientists, giving their data to researchers, scientists and astronauts to help grow mankind's collective knowledge. To the teens in particular, doing something larger — like learning how to best grow food in space or the effects of climate change — is an eye-opening lesson that no career is off limits.
"As the youth are collecting data, they're wondering if the seeds have been exposed to radiation, and if they grow faster or slower. To them it's like, is this the Spider-Man of tomato plants?" said Susan Ciavolino, director of youth development program education and STEM, Boys & Girls Clubs of America. "It feels different to be having fun while doing a task, you're engaged. You're doing something real."
The JFK Space Lab program is funded through a $1.5 million gift from Raytheon to the JFK Library Foundation. That includes providing schools and after-school programs nationwide with a curated set of free experiments, and the choice of five schools to receive a JFK Space Lab at the start of the 2019–2020 school year all with support from the ISS National Lab. Students will grow plants with special cameras and sensors, perform DNA analysis with professional equipment, and even venture outdoors with antennas and other software to attempt radio contact with the ISS and other entities.
The John F. Kennedy Library Foundation and ISS National Lab will discuss the JFK Space Lab program efficacy at the ISSRDC in Atlanta, Georgia, on Thursday, August 1. They joined Raytheon in awarding ten participating Boys & Girls Clubs with astronaut and augmented reality experiences to help expand their exploration of space, including ham radio conversations with ISS astronauts facilitated by ARISS (Amateur Radio on the International Space Station).
To learn more about the program visit https://www.jfklibrary.org/jfk-space-labs.