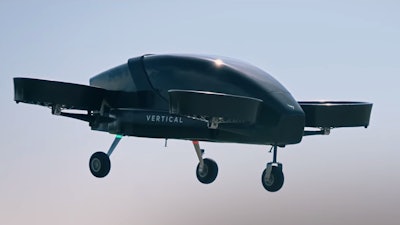 Vertical Aerospace (YouTube)
Honeywell will supply avionics and other flight technology to a flying car startup under a newly announced agreement between the two companies.

The industrial technology giant, which is in the process of moving its headquarters from New Jersey to North Carolina, will also provide navigation and fly-by-wire systems to Vertical Aerospace, a British company that tested a prototype quadcopter flying vehicle last year.

Honeywell officials said its advanced systems — including the paperback-sized fly-by-wire system — and experience with aviation authorities would help companies in the urban air mobility market shift from research and development to commercial operations.

Vertical Aerospace hopes to deploy a fleet of electric vertical-takeoff-and-landing air taxis within four years, officials have said.

Stephen Fitzpatrick, the startup's founder and CEO, said in the announcement that the deal would "allow us to make carbon-free, on-demand air mobility a reality."

Honeywell officials said it hopes to finalize a formal agreement in coming weeks; it would be the third such deal between the company and an urban aircraft startup.