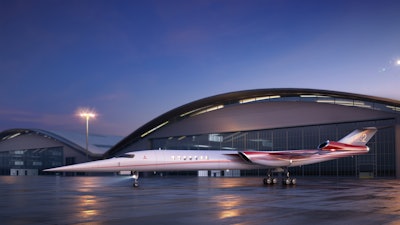 Aerion Supersonic
The world's largest aircraft maker this week announced a "significant" investment in a Nevada company that hopes to develop the world's first small supersonic jet.

Boeing said in addition to the financial contribution to Aerion, the company will also provide engineering and manufacturing expertise for the AS2 business jet, as well as strategic and flight test resources.

Aerion, founded by billionaire Robert Bass in 2003, unveiled the design for a 12-passenger supersonic jet in 2014. The AS2 would be able to fly at speeds of up to 1,000 miles per hour — or Mach 1.4 — while meeting environmental standards.

At speeds about 70 percent faster than current business jets, the AS2 could cut about three hours off transatlantic flight times, the company said.

"Together with Boeing, we're creating a faster, more connected future with tremendous possibilities for enhancing humanity's productivity and potential," Aerion Chairman, President and CEO Tom Vice said in a statement.

Officials from Boeing NeXt, the aerospace giant's urban air mobility division, said the agreement would combine Aerion's growing capabilities in supersonic flight with Boeing's aviation experience and industrial scale.

Terms of the deal were not disclosed. The companies hope the AS2 will make its debut flight in 2023.

"This is a strategic and disciplined leading-edge investment in further maturing supersonic technology," said Steve Nordlund, the vice president and general manager of the NeXt segment.