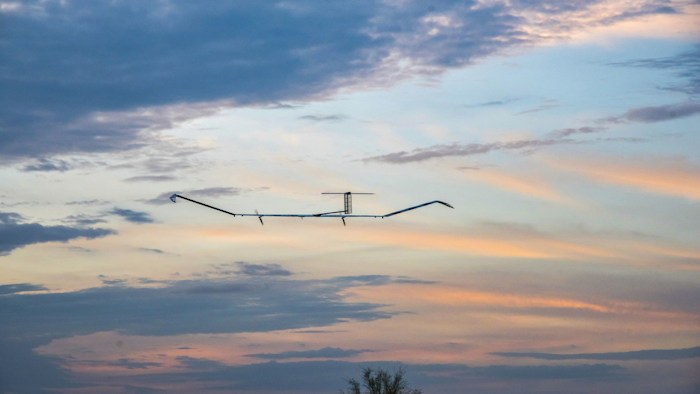 Airbus
Airbus' first production aircraft in its high-altitude, solar-powered Zephyr program set a record for flight duration during its maiden voyage, the European aerospace giant announced last week.

The unmanned Zephyr S HAPS took off in Arizona on July 11 and successfully landed more than 25 days later. The trip broke the previous record for continuous flight of more than 14 days established by a Zephyr prototype.

Airbus officials said the flight achieved all engineering objectives and proved the system's capabilities.

"This very successful maiden flight represents a new significant milestone in the Zephyr program, adding a new stratospheric flight endurance record which we hope will be formalized very shortly," Jana Rosenmann, the head of unmanned aerial systems at Airbus, said in a statement.

The solar-powered UAV can cruise for months at a time at altitudes well above weather systems and other air traffic. Airbus believes the aircraft could provide satellite-like services — such as expanding internet connectivity, monitoring environmental conditions or conducting military surveillance — more easily than launching additional satellites into orbit.

The U.K. government, the first customer for the Zephyr program, funded its record-setting initial flight.

"We will in the coming days check all engineering data and outputs and start the preparation of additional flights planned for the second half of this year from our new operating site at the Wyndham airfield in Western Australia," Rosenmann said.