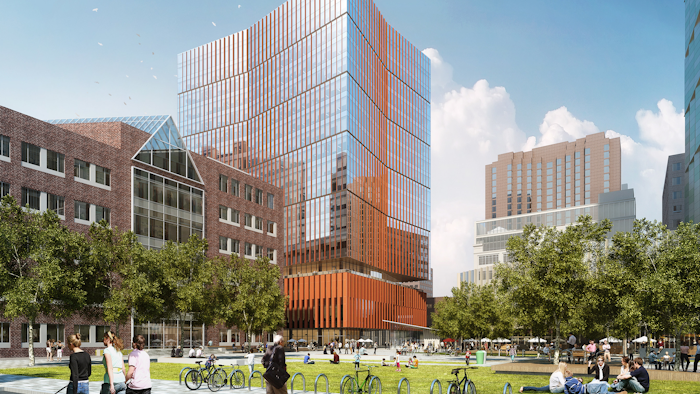 Perkins + Will
Boeing and its Aurora Flight Sciences subsidiary aim to develop autonomous flight technology and aircraft at a new research center outside Boston.

The aerospace giant last week unveiled plans for the Boeing Aerospace & Autonomy Center, a 100,000-square foot R&D facility that will be part of a mixed-use development in Cambridge owned by the Massachusetts Institute of Technology.

"By investing in this new research facility, we are creating a hub where our engineers can collaborate with other Boeing engineers and research partners around the world and leverage the Cambridge innovation ecosystem," Chief Technology Officer Greg Hyslop said in a statement.

Aurora, which was acquired by Boeing last year, currently operates an R&D facility in Cambridge; those employees will relocate to run the new center on behalf of Boeing once construction is completed.

The lab will focus on "designing, building and flying autonomous aircraft and developing enabling technologies," the company said.

Boeing is the first major tenant of the Kendall Square Initiative, a collection of six buildings that will incorporate R&D as well as office, housing and retail space. Financial terms of the project and lease agreement were not disclosed.

"It's fitting that Boeing will join the Kendall/MIT innovation family," added MIT Provost Martin Schmidt. "Our research interests have been intertwined for over 100 years, and we've worked together to advance world-changing aerospace technologies and systems."