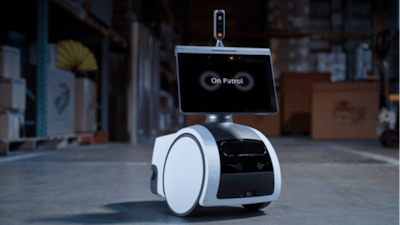 Amazon
Amazon today announced Astro for Business, a security solution for small and medium-sized businesses that combines robotics, smart security, and artificial intelligence (AI). Customers can tailor Astro for Business with separately sold subscriptions including Ring Protect Pro and Astro Secure, a new subscription offering advanced business security features like smart alerts, custom patrol routes, and scheduled patrols.
Customers can also add Virtual Security Guard for additional professional monitoring capabilities. From checking in after hours to having Astro patrol and send alerts if something is amiss, Astro for Business gives business owners eyes in more places and peace of mind knowing that they can better protect their business.
Astro for Business can map up to 5,000 square feet, and customers can use live view, two-way talk, Astro's HD periscope camera with night vision, and visual ID to receive unrecognized person smart alerts. Additional subscriptions offer enhanced security benefits when layered on top of each other.
Ring Protect Pro: Subscribing to Ring Protect Pro lets customers save Astro for Business video history for up to 180 days and sync Astro for Business with Ring Alarm to link Ring Motion Detectors and window and door Ring Alarm Contact Sensors for alerts when a Ring Alarm is triggered.
Astro Secure: A new subscription built specifically for business environments that enables Astro to patrol autonomously and lets customers create multiple security monitoring routes tailored to their business, with specific viewpoints and frequencies. Astro can also send customers smart alerts when it hears the sounds of smoke and carbon monoxide (CO) alarms or glass breaking, and with a synced Ring Alarm, Astro can also move autonomously to triggered sensors to investigate.
Virtual Security Guard: For even more protection, adding a Virtual Security Guard subscription lets Rapid Response agents respond when Astro is in Home or Away mode. For example, if Astro detects an unrecognized person, hears the sound of glass breaking or a smoke or CO alarm, or receives an alert that a Ring Alarm sensor has been triggered, agents are alerted. The agents can then initiate Astro's live view and remotely navigate the device to investigate further, and if needed, call emergency services.
Over the past year, customers have been testing Astro for Business across a range of businesses, including retail, manufacturing, health and wellness, food and beverage, and construction.
Customers can control Astro by using the Amazon Astro app, making it easy to check in remotely, communicate with employees, change patrol frequencies, and arm and disarm Astro.
Astro is built with multiple layers of privacy controls. Astro for Business does not retain voice recordings, and customers can easily turn off mics, cameras, and motion with one press of a button, as well as define out-of-bounds zones where Astro is not allowed to patrol.
Astro for Business is available for purchase today starting at $2,349.99. At purchase, customers will receive a free four-month trial of Ring Protect Pro ($20/month) and Astro Secure ($60/month), a $320 value. If subscribed to both Ring Protect Pro and Astro Secure, customers can also add Virtual Security Guard for $99/month. Astro for Business is only available in the U.S.