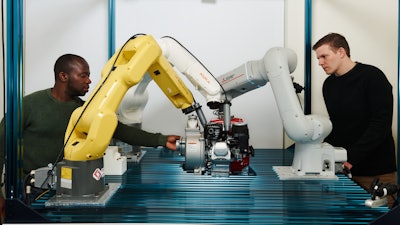 Realtime Robotics
Realtime Robotics, a collision-free autonomous motion planner for industrial robots, announced the launch of its new Optimization-as-a-Service solution. The solution uses a combination of proprietary optimization software and experienced robotics and application engineering insights to improve a manufacturer's overall productivity.
Realtime Robotics' innovative optimization service was recently used by Volkswagen Commercial Vehicles in Hanover, Germany, in a proof-of-concept project for electric vehicle manufacturing. The company was looking to quickly and efficiently improve the cycle time in a 2-robot cell that was welding car doors for the ID. Buzz vehicle line.
Optimization-as-a-Service analyzes a customer's existing digital twin, identifying bottleneck areas and recommending improvements based on the customer's desired parameters. Realtime analyzed Volkswagen Commercial Vehicles' simulation file without stopping or interfering with ongoing production. The solution's recommendations helped the automotive manufacturer to incorporate improvements and reduce cycle time by several seconds.
"Our Optimization-as-a-Service offering delivers results when you cannot spend months squeezing more productivity out of your automation cells," said Peter Howard, CEO of Realtime Robotics. "It has the potential to forever change how manufacturing operations are conducted, optimizing for improved speed and efficiency, without interrupting existing processes."
Realtime Robotics' Optimization-as-a-Service can rapidly generate and test hundreds of thousands of potential robot paths, determining the best motion sequences based on target assignment, robot reach and other parameters. Automatically calculated interlocks allow robots to operate within much closer proximity.
Customers need only send Realtime their simulation CAD file for the bottlenecked cells. The company's engineers will then use proprietary algorithms and expertise to optimize the workcell in just weeks, reducing cycle times with better paths and sequences. Once the results are validated, they can immediately be transferred to the production floor.