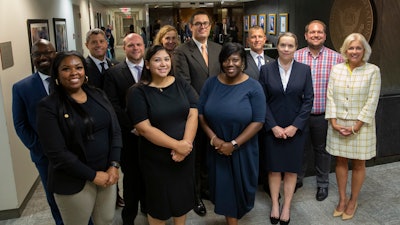 National Transportation Safety Board
The National Transportation Safety Board has dramatically increased hiring this year to keep up with emerging technologies and reduce the average time it takes to complete investigations.
The NTSB will have 433 employees on staff at the end of the current fiscal year, up from 397 employees in August 2019. Last year, the NTSB hired 57 new employees (compared with seven in 2017) and is on track this year to onboard 70 new employees. The NTSB workforce had remained flat since the mid-1990s even as new transportation technologies have flourished.
On Monday, NTSB Chair Jennifer Homendy swore in 15 new employees, the largest cohort of new hires the agency has welcomed in years. Last month, the agency welcomed four new members of the Office of Aviation Safety's air traffic control division, which is fully staffed for the first time in seven years.
​"My vision for the NTSB is an agency where everything we do — from our investigations to our advocacy to our internal processes and procedures — advances our critical safety mission," said Homendy. "The first step was to right-size our agency's workforce, which had been stagnant for decades, because it is our people who will ensure the NTSB is a 'mission-first' agency for years to come."
Homendy said the new staffing allowed the NTSB to increase the number of investigators in the Office of Rail, Pipeline and Hazardous Materials Investigations by nearly 50%. Increased staffing also helped reduce the number of investigative reports more than two years old —​from a high of 442 cases in February 2022 to zero by the end of this week.
In the last two years, the NTSB obtained direct hire authority from OPM for mission-critical positions to streamline the hiring process and target the right level of expertise for the job. The safety board also reorganized its human resources department, hired the agency's first-ever chief human capital officer​ and leveraged data to identify and remediate bottlenecks in the hiring process.