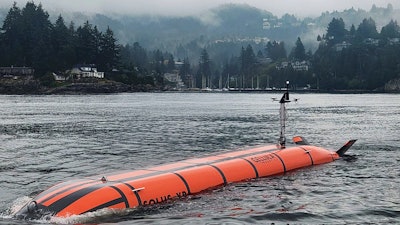 Cellula Robotics
Cellula Robotics's Extra Large Unmanned Underwater Vehicles, the Solus-XR XLUUV, has officially embarked on its sea trials, which will help with the company's development of its long-range hydrogen fuel cell powered autonomous underwater systems.
"This momentous achievement is a testament to Cellula's enduring commitment to innovation and excellence." Said Adrian Woodroffe, Director of Business Development at Cellula. "Through strategic partnerships and tireless dedication, the company has transformed a vision into reality with the development of the Solus-XR XLUUV, a cutting-edge testament to the future of maritime security."
The Solus-XR XLUUV has been crafted to attain longer operational ranges, reaching 5,000 kilometers. Through its port-to-port mission capability, Solus-XR removes the necessity for auxiliary support vessels, thus facilitating access to challenging and remote locations frequently encountered in Arctic sub-ice missions. Beyond the elimination of environmentally taxing high-emission support vessels, the hydrogen fuel cell technology developed by Cellula empowers the system to engage in sustainable operations, ensuring minimal ecological footprint.
The initial sea trials are designed to evaluate surface performance and autonomy, offering a valuable opportunity to assess the vehicle's capabilities in the dynamic context of real-world maritime conditions.
Looking ahead, Cellula Robotics Ltd has planned demonstration missions for 2024, a pivotal step in showcasing the full spectrum of the Solus-XR XLUUV's capabilities in real-world scenarios. These missions will underscore the vehicle's potential to redefine underwater security and operations, solidifying its place as a game-changing technology.
Further bolstering its achievements, the Solus-XR XLUUV proudly claims the title of the largest UUV ever developed in Canada. This accomplishment underscores the nation's capacity to drive innovation and lead in the development of cutting-edge underwater technology.
As Cellula Robotics Ltd pushes the boundaries of innovation, the sea trials of the Solus-XR XLUUV mark a defining moment in the company's journey, demonstrating its commitment to excellence and setting the stage for a new era of XLUUVs.