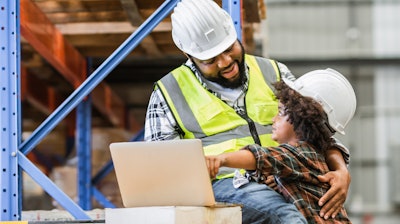 iStock
A recent study shows that on average, parents in the United States get just shy of 4 weeks of paid family leave, in addition to 18 days of unpaid family leave when they welcome a new baby.
For 73% of Americans surveyed, this cumulative seven weeks of paid and unpaid time out of the office is not enough.
In order to top up the employer-provided leave, 36% of workers use an average of four vacation or sick days to extend that time away from the office if they can.
In July of 2022, Cosmedica conducted a survey assessing the relationship between career and parental leave of 1,057 Americans. Survey respondents ranged in age from 18 to 82 and consisted of individuals with and without children and across a broad spectrum of job industries.
What did they find? When employers aren't legally obligated to provide any paid parental leave, parents in the workforce are left behind.
Paid Leave is Not Legally Mandated
In America, paid leave is not legally required. In fact, the U.S. is the most wealthy country in the world that does not have some form of paid parental leave in place. Small island nations in the Pacific, like Papua New Guinea, are some of the few countries that also lack any policy regarding this type of leave.
On the other end of the spectrum are countries like Estonia, offering up to 86 weeks of paid leave for its employees.
Parental Leave Policies Vary by Industry
Almost half of the employees surveyed (42%) report getting no parental time off work at all. This ratio varies significantly depending on the industry of work.
Hospitality and retail industries ranked far and above the average, with 69% of employers offering no paid family leave. The education field fell just shy of the halfway mark, with 47% of employers not paying for leave. Tech and IT (37%), manufacturing and construction (33%), and business and professional services (30%) all featured on the list of industries lacking any paid leave as well.
Overall, almost two-thirds of Americans report two weeks or less of paid time off for their family leave.
Leave Impacts on New Parents' Careers
Individuals choosing to take leave to bond with their new child face repercussions when they return to work and sometimes even before they step out of the office.
Confusion surrounding vague company policies and negative feedback from professionals in the workplace play into the parents' narratives. 42% of employees feel their boss was not supportive of their leave, while 21% also felt the lack of support coming from their colleagues.
31% of employees worry their jobs would be in jeopardy if they requested or took leave. In the U.S., there are legal pregnancy discrimination protections in place; however, six of the women surveyed report being fired for trying to take family leave despite this.
Almost a quarter of those interviewed say they feel as though they lost promotional opportunities or pay increases as a result of their leave. Disaggregating the data by gender reveals this sentiment impacts 31% of women and 11% of men.
The availability of infrastructure and tools for new mothers upon return to work was also assessed, with 15% of women sharing that they did not have the time or tools to be able to pump at the office when they returned to work.
What Americans Want
Looking to the future, of those individuals surveyed who don't have kids, 43% are unaware of their organization's parental leave policy. However, this doesn't appear to hinder the 39% who are still planning to grow their family. 29% of individuals without kids are uncertain if they want to get pregnant in the future.
The most popular length of paid time off respondents feels it should be required 12 weeks or more for women (65% in favor) and 12 weeks or more for men (44% in favor). One in three respondents suggests giving parents 20 weeks off or more for maternity leave (33%) as the best path forward.
A general trend in the statistics shows women respondents as more supportive of paid leave policies than men. Other response rates that illustrate this trend include 9% that feel mothers should get four weeks or less compared to 30% that feel fathers should get the same four weeks or less. One-third of those surveyed feel women need 20 weeks or more of paid time off, while only 21% believe men need the same amount of time.
The survey also examines proposed leave lengths for adoption and fostering, which received the most support for 12 weeks or more of leave at 48% and 36% in favor, respectively.
A 73% dissatisfaction rate with the current parental leave policy among respondents and an 85% rate of individuals voting pro mandatory paid parental leave may mean it is time to reassess the current legislation.