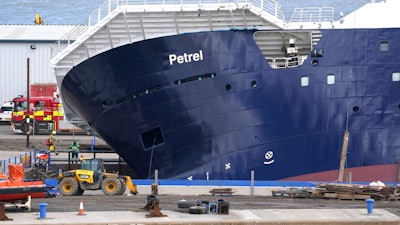 Andrew Milligan/PA via AP
LONDON (AP) — A ship tipped over while dry-docked in Scotland, injuring 25 people Wednesday, emergency workers said.
Police and emergency services were called to the Imperial Dock in Edinburgh after receiving reports that a ship had become dislodged from its holding.
The Scottish Ambulance Service said 15 people were taken to the hospital, while 10 others were treated and discharged at the scene.
Photos from the scene showed the ship leaning to the side at a 45-degree angle. Adam McVey, a local official, tweeted that it became dislodged due to strong winds.
British media reports said the 76-meter (250-feet) ship was a research vessel previously bought and outfitted by the late Microsoft co-founder Paul Allen.
The BBC reported the ship had been moored since 2020 due to challenges brought by the COVID-19 pandemic.