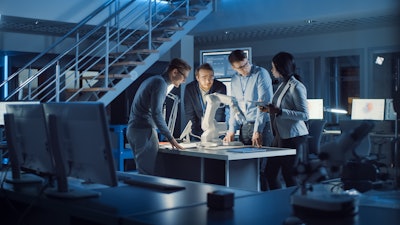 iStock
As of 2022, manufacturers can no longer immediately deduct their R&D expenses in the year in which they are incurred. Instead, manufacturers must deduct or amortize their expenses over a number of years, which makes R&D much more expensive to undertake.
The American Innovation and Jobs Act, which was recently reintroduced by Sens. Maggie Hassan (D-NH) and Todd Young (R-IN), would restore the immediate deductibility of R&D expenses, a policy that was in place for nearly 70 years.
In the 117th Congress, which ended in January 2023, the American Innovation and Jobs Act garnered 35 cosponsors: 17 Democrats and 18 Republicans.
A recent analysis released by the NAM finds that the industry would lose 59,392 jobs and face a decline in output of $31.69 billion this year if congress does not act.
After the American Innovation and Jobs Act was reintroduced, National Association of Manufacturers (NAM) Managing Vice President of Tax and Domestic Economic Policy Chris Netram released the following statement:
"Manufacturers are hiring workers, investing in communities across the United States and creating the products, materials and processes that drive America forward. Manufacturers applaud the introduction of the bipartisan American Innovation and Jobs Act, which restores full deductions for research, helping the American industry out-compete China, which provides a 200% super deduction for manufacturers' research—20 times the amount in the U.S. tax code," said Netram. "Manufacturers, the vast majority of which are quite small, perform 55% of private-sector research and development. These investments in innovation spur economic growth and support the creation of high-paying jobs across the country. Congress should approve the American Innovation and Jobs Act quickly to support critical research that allows manufacturers to improve lives in America and for people around the world."