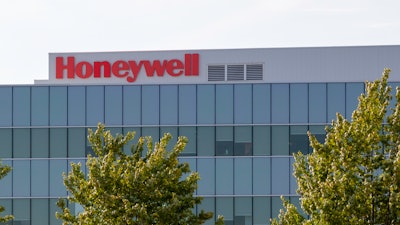 iStock
CHARLOTTE, N.C. — Honeywell announced that Vimal Kapur, president and chief operating officer, will succeed Darius Adamczyk as chief executive officer on June 1.
Adamczyk, who became COO in 2016, CEO in 2017 and chairman in 2018, will continue to serve as executive chairman of Honeywell. Kapur was also appointed to the company's board of directors effective March 13. These moves ensure a seamless leadership transition and position Honeywell for continued outperformance versus peers.
"Vimal is absolutely the right person to lead our company to the next level of growth and stellar performance," Adamczyk said. "Vimal brings 34 years of deep knowledge about our businesses, end markets and customer needs. His ability to drive our key sustainability and digitalization strategic initiatives, along with his advancement of our world class operating system – Honeywell Accelerator – throughout the organization, gives him an outstanding platform to drive continued outperformance for our shareowners. Honeywell's next operational evolution, under Vimal's leadership, will be the incorporation of Accelerator and standardization of global business models to enable maximal performance in each business segment."
"Vimal is also uniquely capable to drive Honeywell's sustainable innovation and solidify our position to lead in the energy transition. Now more than ever, our customers need our solutions to help their businesses be more efficient and more sustainable, and under Vimal's leadership, Honeywell's sustainability technologies will help our customers achieve their goals, today and into the future."

"In his role as COO, Vimal has driven continued operational execution on our proven value creation framework, all of which is underpinned by Accelerator. We have also made significant strides in advancing our digital solutions – both to enhance our own internal operations and decision-making and in support of our customers to benefit their digitization transformations. The rigor of our digital solutions is a real differentiator for Honeywell and will enable us to achieve consistent and sustained outperformance."

"Vimal has demonstrated that he can nimbly evolve business strategies to fit any circumstances – and we have seen that most dramatically in the challenges of the last few years. He is technically and analytically strong with a bias for results and gets the most out of people and processes. In his role as President and Chief Operating Officer, Vimal has enabled our businesses to develop new solutions to help our customers drive their sustainability transformations and accelerate their digital capability. Vimal has a depth of operating experience that is unparalleled at Honeywell, having operated across our multiple business models, industries, regions and business cycles during his 34 years at Honeywell, including leading Performance Materials and Technologies (PMT) and Honeywell Building Technologies (HBT), and now in his COO role. He brings a high degree of energy and excitement about what the future holds -- from our innovation and breakthrough initiatives to our digitalization rigor and agile decision-making to our portfolio optimization. Our board and I have the utmost confidence that Vimal will be an outstanding CEO, leading our strategic plans and executing with rigor against our profitable growth plans."
"It is truly an honor to have the opportunity to serve as CEO of Honeywell under Darius' leadership and the leadership of our world class board of directors," Kapur said. "I have had the privilege to work in a variety of businesses and functions over my three decades with Honeywell. Our high-performance culture and exceptional talent set Honeywell apart from other companies, and our innovation inspires me every day by bringing technologies to market that impact the world in a positive way. Honeywell is playing a major role in making the world a better place, and I am both proud and humbled to take on the CEO role of this great company. I am looking forward to continuing to work with Darius and our board to continue to create value for our shareowners and our customers."
Kapur, 57, was named president and COO in July of 2022, and has been leading the creation of new solutions to help customers drive their sustainability transformations and accelerate their digital transformation journeys. As COO, Kapur has also overseen the continued integration of Honeywell Accelerator across the organization and furthering its adoption as an operational system for everything that Honeywell does.
Prior to his role as COO, Vimal served as president and CEO of PMT, an $11 billion global leader in the development of high-performance products and solutions including low global warming refrigerants; specialty films for healthcare and photovoltaic applications; leading technologies for the global refining and petrochemicals industry; and process solutions.
Adamczyk, 57, has led Honeywell to significantly and consistently outperform peer companies, the S&P 500 and the XLI. Under Adamczyk's leadership, from 2016 through 2022, Honeywell's market capitalization grew from $88 billion to $145 billion, a 9% CAGR. Over that period, Honeywell's cumulative total shareholder return was 128% versus 109% for the S&P 500 and 100% for the XLI. The company's annualized dividend rate grew from $2.27 to $4.12, an increase of 82%, while its share price rose 99% over the same time frame.
"Darius has been a truly transformational leader throughout his tenure at Honeywell. He created our industrial software business, as well as architected and executed our differentiated value creation framework, including transformational strategies in digitalization, integrated supply chain, breakthrough innovation, enhanced SaaS offerings and ESG," said Scott Davis, Honeywell's lead director. "Under Darius' leadership, the strong portfolio, processes and culture that Darius and his team have put in place have taken Honeywell's performance standards to a new level. Our performance has consistently outperformed the markets, and we are well-positioned for growth acceleration with strong macro tailwinds in our core end markets and accretive gains from incremental breakthrough initiatives. Our heritage of innovation in sustainability solutions is a strength that sets Honeywell apart."
"We have been extremely pleased with the thoughtful leadership transition planning and execution undertaken by our board in the past. We deployed a similar playbook to ensure rigorous planning and development for this important transition. Our selection of Vimal to succeed Darius is a tribute to Darius' success as Chairman and CEO. We wanted to appoint a successor capable of building on the strong foundation Darius has built, while taking Honeywell to the next level of out-performance over the long run. In Vimal, we have a proven leader who can enhance Honeywell's growth rate and operational excellence and drive Honeywell to be the leader in industrial software and sustainability solutions. Darius and Vimal work exceedingly well together, and we are confident the transition will be seamless. As Executive Chairman, Darius will continue to play a vital role in direct engagement with customers, business development opportunities and leadership development. Vimal has exhibited the key leadership qualities and operational expertise that will allow him to thrive as Honeywell's next CEO, and Darius and the Board will do everything possible to support Vimal's success."
In his role as executive chairman, Adamczyk will be focused primarily on supporting customer relationships, business development, enterprise strategic planning, shaping the portfolio and global government relations.
Honeywell also announced today that Doug Wright, president and CEO of HBT, will leave the company to pursue another opportunity. Honeywell is pleased to announce the appointment of Billal Hammoud as president and CEO of HBT effective April 1. Hammoud is currently president of Honeywell's Smart Energy and Thermal Solutions business.