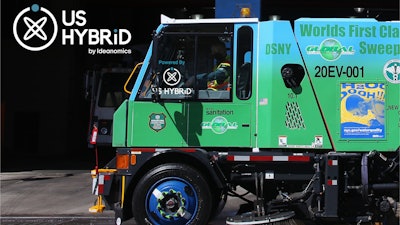 Ideanomics/GEP
Ideanomics, a global company focused on accelerating the commercial adoption of electric vehicles (EV), today announced that its subsidiary U.S. Hybrid is supplying Global Environmental Products (GEP) with its proprietary electric and hybrid electric propulsion kits for use in the construction of 62 zero-emission street sweepers. Once complete, GEP will provide the sweepers to New York City, California, the City of Helena, Montana, and Washington D.C.
In 2009, GEP partnered with U.S. Hybrid to launch the first hybrid electric street sweepers in New York City and has since provided additional units to customers in Japan. In 2021, GEP and U.S. Hybrid deployed a first-of-its-kind, fully electric, supercharged street sweeper in New York, which made a splash by cleaning up iconic Times Square after the 2022 New Year's Eve celebration.
GEP will provide 17 electric street sweepers to California's Department of Transportation. In addition, the company has signed a letter of intent to supply 30 plug-in hybrid electric street sweepers and seven all-electric street sweepers to New York City. Additional orders for GEP's all-electric street sweepers include two for the City of South San Francisco, three for Washington D.C., and two for the City of Helena, Montana. All sweepers will feature US Hybrid's proprietary technology.
GEP produces hybrid and fully electric street sweepers manufactured in San Bernardino, Calif. An all-electric street sweeper prevents nearly 90 metric tons of carbon emissions from entering the atmosphere over its lifetime and is significantly quieter than sweepers powered by a combustion engine.