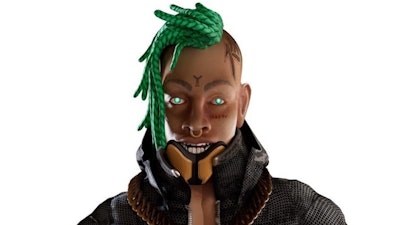 Capitol Records
Artificial intelligence-powered rapper FN Meka has been dropped by Capitol Records, just weeks after the label signed it, after receiving strong criticism of the robot, which the New York Times said had been described as "digital blackface."
FN Meka, which has more than 10 million followers on TikTok, was the first "AR artist" signed to Capitol. But now the label has severed ties with the project from Factory New.
"We offer our deepest apologies to the Black community for our insensitivity in signing this project without asking enough questions about equity and the creative process behind it. We thank those who have reached out to us with constructive feedback in the past couple of days — your input was invaluable as we came to the decision to end our association with the project," said Capitol in a statement obtained by the New York Times.
In 2021, Factory New Co-Founder Anthony Martini saw FN Meka as not terribly different from a lot of other current pop music artists. "Think about the biggest stars in the world. How many of them are just vessels for commercial endeavors?" he asked.
But FN Meka has been seen by some in the music business like non-profit organization Industry Blackout as a "careless abomination."
"While we applaud innovation in tech that connects listeners to music and enhances the experience, we find fault in the lack of awareness in how offensive this caricature is," said Industry Blackout in a statement. "It is a direct insult to the black community and our culture. An amalgamation of gross stereotypes, appropriative mannerisms that derive from black artists, complete with slurs infused in lyrics."