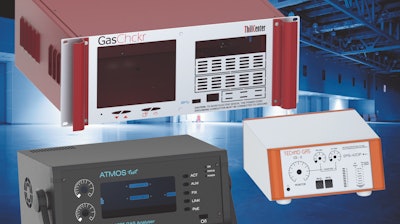 OKW
Metcase's portable instrument enclosures and 19" rack cases have become increasingly popular with electronics engineers designing new gas analysis equipment. A key reason is that the enclosures can be ordered fully modified, ready for the production line.
These stylish, robust aluminum enclosures are also ideal for other applications including networking, laboratory instrumentation, industrial control, sound and studio electronics, medical and wellness applications.
COMBIMET 19" is Metcase's most customizable and cost-effective range of standard 19" rack cases. The top, base and rear panels are removable. Both the top and base can be specified with or without ventilation. The large range of standard options includes heights from 1U to 6U. Three standard depths include extra-deep (24 inch) cases for server racks. There is also an open-top T version for optimum cooling and ease of access.
TECHNOMET 19" is the mini-rack version of METCASE's most advanced instrument enclosures: its cohesive design has no visible fixing screws. Diecast bezels fit flush with the main case body for superior aesthetics. Each enclosure includes a removable rear panel and internal subrack/chassis support rails. Recessed ABS side handles enable easy carrying.
UNIMET and UNIMET-PLUS are smart, modern desktop instrument enclosures available with/without a bail arm that doubles as a desk stand. The bail can be adjusted to ensure the optimum viewing angle. The removable rear panel is recessed to protect connectors and switches. UNIMET-PLUS has four snap-in PCB guides, speeding up installations.
For more, visit https://www.metcaseusa.com/en/Enclosures/Metal-Enclosures.htm