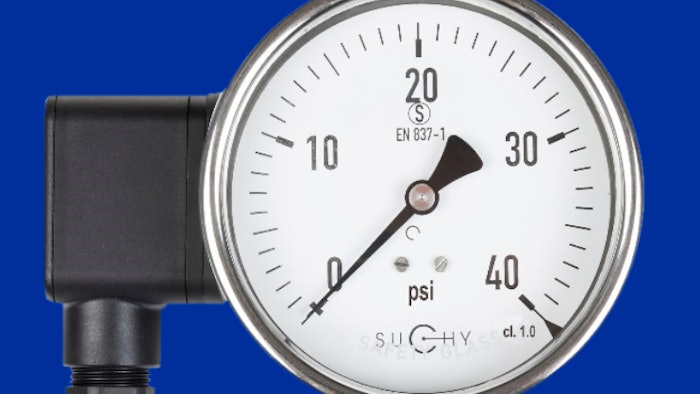 Bristol Instruments
Bristol Instruments introduces the SMR-36 Series of stainless steel pressure gauges with a sensor integrated into the gauge to provide an analog signal output.
The 4" and 6¼" diameter SMR-36 Series gauges with Bourdon tube have accuracy of 1.0%. These are S3 safety category pressure gauges with break-proof solid laminated glass front and blowout back as well as hermetically sealed pressure equalizing membrane.
SMR-36 Series outputs have zero-point adjustment. Output options are 0 to 20 or 4 to 20 mA or 0 to 5 or 0 to 10 V DC.
Measurement ranges of the SMR-36 Series are 0 to 6,000 psi covered by 16 models. Additionally, nine models cover portions of a -15 psi to +300 psi range. Repeatability is <.05% of full scale. Fitting sizes are NPT: ¼- or ½-inch and SAE: 7/16-inch -20. Power supply accepts 12 to 30 V DC and current draw is 25 mA at 24 V for current output and 10 mA at @24 V for voltage output.
Visit http://bristolinstruments.com/pressuresensorsp.html for more information.