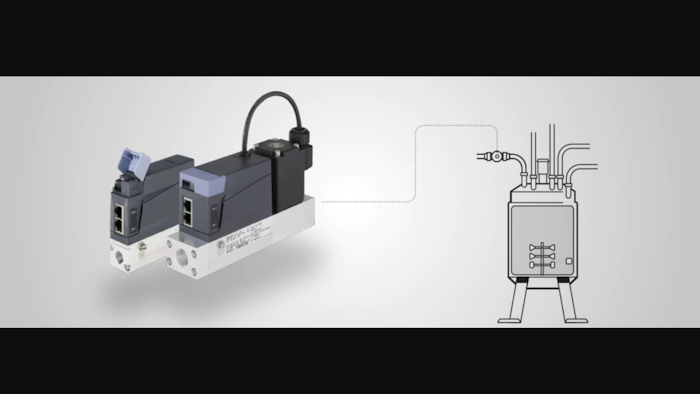 Bürkert
Bürkert Fluid Control Systems presents mass flow controllers with a large setting range, excellent repeatability and a tight-closing proportional valve for reproducible processes.
The controllers are suitable for an array of applications from research laboratories to pilot plants. Up to four different gases can be calibrated; with just one device, users can control common fermenter gases such as air, oxygen, nitrogen or carbon dioxide exactly according to the needs of the respective cultures.
The MFCs Type 8741 and 8745 cover flow ranges from a few ml/min to 2500 l/min. Parts which come into contact with media are made of stainless steel to prevent ferment contamination. Optionally, the mass flow controllers can be designed to conform to USP Class VI (Chapter 87 & 88), FDA and EG 1935. On request, they can be additionally supplied with 3.1 acceptance test certificates.
Thanks to direct-measuring sensors, the repeatable MFCs are also suitable for the smallest gas quantities. In combination with the integrated, direct-acting proportional valve – which also serves as a shut-off valve thanks to the high-quality seat seal – they ensure very dynamic control. Process data such as gas temperature and gas flow rate can be transmitted variably in conjunction with the Bürkert device platform EDIP. 
The MFCs also support all common Industrial Ethernet protocols (PROFINET, EtherNet/IP, EtherCAT, Modbus TCP) or CANopen and Profibus-DP via a gateway.
For further information, see: https://www.burkert-usa.com/en/Products-Applications/Customised-Solutions/Applications/Fermentation-PreCise-gas-control-for-reproducible-processe.