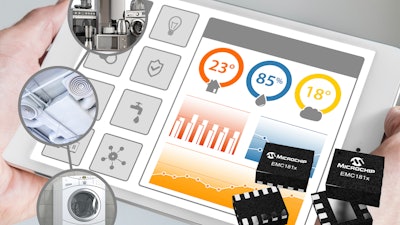 Microchip Technology Inc.
Microchip Technology Inc. has announced five new 1.8V temperature sensors, including the industry's smallest five-channel temperature sensor with standard lead spacing.
The EMC181x temperature sensor family introduces system temperature rate-of-change reporting, a feature that provides advanced warning on how the temperature of a system is fluctuating.
Temperature measurement is central to the functionality of Internet of Things and personal computing devices, making it imperative that developers integrate temperature sensors that reduce power consumption and lower system voltage in applications.

The family is ideal for applications migrating from 3.3V systems to lower voltage rails, such as:
Battery operated IoT applications

Personal computing devices

Field-Programmable Gate Arrays

Graphics Processing Units
For more information, visit https://www.microchip.com.