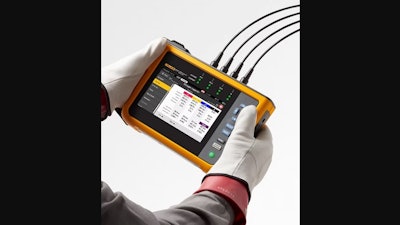 Power quality measurements can be complex to set up and frustrating when critical events are missed. The new Fluke (Everett, WA) 1770 Series Three-Phase Power Quality Analyzers eliminate the complexities of power quality logging, troubleshooting and analysis with automatic measurements, a straightforward user interface and setup, best-in-class specifications and a simplified reporting platform.
The Fluke 1770 Series captures more than 500 power quality parameters by default so critical power quality events are never missed — from fast transients up to 8kV, harmonics up to 30kHz, and dips and swells, as well as the voltage, current and power measurements that enable technicians to characterize electrical systems.
The 1770 Series features:

Automatic measurement of power and power quality parameters — Critical power quality data is captured as soon as a session is started, without extensive setup or selections.

Intuitive user interface

— The streamlined user interface makes it easy to navigate between measurement parameters like V/A/Hz, power, dips and swells, harmonics, unbalance, or PQ health at the push of a button.

High-speed voltage transient capture

— Capture damaging high-speed, high magnitude transients to mitigate their effects before equipment fails.
http://www.fluke.com/1770, 800-87-FLUKE