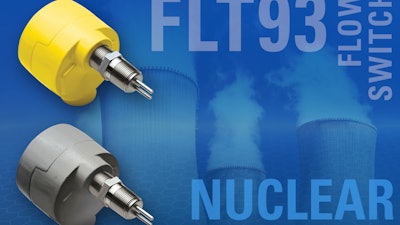 Engineers responsible for nuclear power plant operations who need flow, level, or temperature alarms and indicators for use in liquid, air, gas, or for interface service will find the FLT93 Series Switch from Fluid Components International (FCI, San Marcos, CA) provides a nuclear safety qualified solution.
The FLT93 Switch from FCI provides dependable critical equipment protection and plant integrity validation that makes it Ideal for use in a wide range of nuclear power plant flow, level and temperature measurement applications. Applications include: reactor core coolant, level interface detection and temperature, pump protection, flood alarm, condensate pot level and turbine water level. It is ideal in any application where the measurement of both flow and temperature or level and temperature are important.
FCI's proven single sensor design provides dual measuring functions with the FLT93 Switch. It helps nuclear plant operations save weight, space and costs over two or more discrete sensors. Operators also realize reduced qualification installation costs and complexity. It is the industry's most advanced heavy-duty thermal dispersion technology flow/level switch in the world. Its multi-parameter measurement design is based on more than 55 years of flow and level switch engineering and application experience, providing a rugged long-life instrument.
www.fluidcomponents.com/nuclear, 760-744-6950