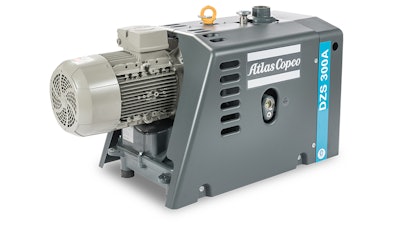 Atlas Copco (Rock Hill, SC) announces its next generation of dry claw vacuum pumps, the DZS A series. This new series sets a benchmark for performance, efficiency and reliability.
Designed with the evolving needs of manufacturing industries in mind, the DZS A series offers significant advantages, including the following benefits:
Available in fixed and variable speed variants: The DZS 065-300A series is engineered to deliver superior vacuum performance, with high pumping speeds and deep ultimate vacuum levels. These dry claw vacuum pumps offer substantial energy savings, resulting in reduced operating costs and a smaller carbon footprint. The DZS 100-400 VSD+A series are equipped with a Variable Speed Drive helping achieve increased productivity due to the pressure set point control. These compact machines with a small footprint deliver high reliability through a rugged and robust design.

Enhanced Performance:

The DZS 065-300A series delivers higher pumping speeds, enabling faster processes and increased productivity. With its improved performance, customers can expect to achieve higher throughput and meet demanding production requirements.

Lower Noise Levels:

Understanding the importance of a quiet working environment, this latest range of pumps features a redesigned silencer. The result is significantly reduced noise levels, creating a more comfortable workplace for operators while maintaining vacuum performance.

Improved Reliability: By lowering the internal temperature of the pump, this series improves on durability by increasing the pump's lifespan, reducing downtime and maintenance costs, and providing customers with peace of mind.

Smart Kit:

The Smart Kit prevents the vacuum pump from overheating when running at ultimate vacuum. This innovation, which replaces the traditional vacuum relief valve, results in better efficiency and suction flow.

Simplified Maintenance: Atlas Copco's commitment to customer convenience is evident in the DZS 065-300A Series with an emphasis on ease of service and on-site maintenance.