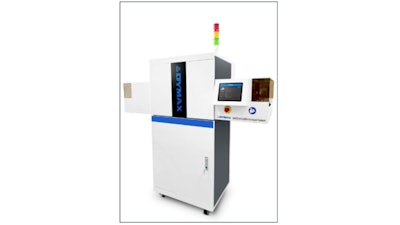 Dymax
Dymax, a leading manufacturer of rapid curing materials and equipment, is excited to introduce the UVCS V3.0 LED Conveyor, an improved version of the well-known and dependable Dymax UVCS line of conveyor curing systems.
Designed with a contemporary industrial look and a focus on the user experience, the conveyor boasts an easy-to-use feature-packed operation and intuitive controls. The redesigned system provides workers with the highest ease of use, enabling faster processing and increased throughput.
The unit features a high-contrast 8-inch touchscreen used to manage the speed, mode of operation, and the LED emitters installed in the conveyor. The system is fully programmable for belt speed and intensity and features a static curing oven mode in addition to providing high-speed conveying. Alternatively, a PLC can be used to activate and run the system. With a 12-inch-wide belt, automated part sensing, and reversible operation, users can maximize their productivity with the UVCS V3.0 LED Conveyor.
FX-1250-series LED flood lamps, the UVCS V3.0 LED Conveyor comes equipped with various features to provide seamless integration into an existing process. Several emitter mounting arrangements are available, including a single lamp, line arrays up to 1x3, and side-by-side arrays up to 2x2. Additionally, belt and edge-carry versions are available for different transporting methods.
With its fully enclosed installation for improved safety and UV leak protection and a high-power exhaust system, the conveyor emits minimal noise, light, and heat. The exhaust system minimizes the chamber temperature even with high-power curing systems, an ideal feature for temperature-sensitive parts. Along with being CE compliant for global use, the UVCS V3.0 LED Conveyor is ideally suited for a range of curing applications in the medical, consumer electronics, automotive, aerospace and defense, optical, and appliance industries.