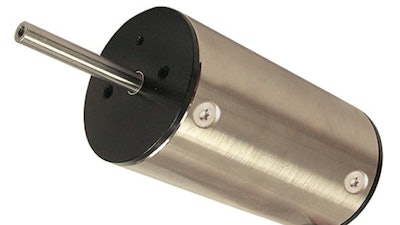 Moticont
A new, compact electric cylinder or linear voice coil actuator 38.1 mm (1.500 in.) in diameter, with a 12.7 mm (0.500 in.) stroke, and a housing length of 69.9 mm (2.750 in.) long has been released by Moticont.
This new SDLM-0038-070-01-01M linear DC actuator features high repeatability, 1.25 micron resolution, a continuous force of 14.5 N (3.2 lbs.), and a peak force of 45.8 N (10.3 lbs.). To operate at peak efficiency an integral temperature sensor provides data to achieve the highest possible throughput. Each end of the housing features threaded mounting holes on a 19.1 mm (0.75 in.) bolt circle for universal mounting.
This high speed, high acceleration/deceleration, non-cogging, high 1.25 micron resolution, high force-to-size electric cylinder has a linear encoder mounted internally for closed loop servo operation.
The 6.4 mm (0.250 in.) non-rotating shaft has internal threaded holes for direct, zero backlash, connections to a load at each end. Additionally, the shaft is supported at both ends by long life linear bearings and can tolerate side loads up to 24.0 N (5.4 lbs.). These clean, quiet linear actuators have a HOME sensor. They are ideal for: medical, assembly, work holding and clamping, sorting, laser machining and drilling, packaging, sampling, scanning, laser beam steering and filtering applications.