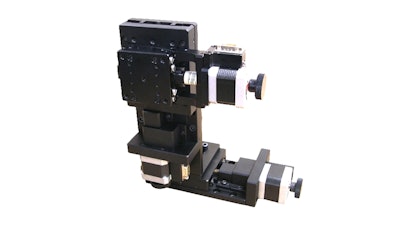 OES
An extensive series of XZG Positioning Stages (X-axis, Z-axis, and Goniometer) is the newest addition to the OES family of high-precision motion control stages.
Built to order, a user can select from any combination of linear stages with travel lengths of 15 mm, 30 mm, 50 mm, and 75 mm for both the X and Z axes that feature high precision 1 mm per turn lead screws, and, if required, travel lengths over 100 mm are also available.  
Additionally, any of three goniometers with +/-10, +/-15, +/-45 degrees of travel can be selected and mounted in a horizontal or vertical orientation.
Additionally, four motor options are the: -01 version which has Stepper Motor driven axes, -02 version has Three Phase-Servo Motor driven Axes, -03 version has DC Servo Motor Driven Axes and -04 version has Stepper Motor Driven Axes with Quadrature Optical Encoders for position verification. 
The X and Z axes feature positional accuracy of 10 microns and repeatability of 5 microns, and each of the goniometers (G axis) feature an accuracy of 0.05 degrees and +/- 0.01 degrees repeatability. For the highest resolution, accuracy, and speed options -02 and -03 for closed loop servo operation are available.  
These stages are ideal for: 
Laser scanning

Machining and drilling
Optical bench
Alignment
Mirror positioning
Inspection
Testing
Each axis is equipped with two limit switches to signal the motion controller for end-of-travel positions. The Goniometer axis has a calibrated scale for visual indication and precision pattern of threaded holes for mounting tooling or fixtures. 
For more, visit http://www.oesincorp.com.