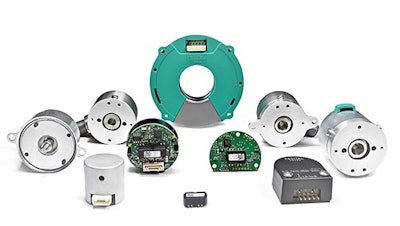 Posital
Posital has received certificates of compliance for its family of kit encoders that feature BiSS C interfaces.
These encoders are designed to be installed in motors or drives, providing the control system with position feedback to over single- or multi-turn operating ranges. 
The BiSS Association e.V. is a not-for-profit user group that promotes the development and use of the open source BiSS communications protocols suites. It has initiated a certification process for equipment that makes use of this interface technology.
BiSS, which stands for Bisynchronous Serial, features several sets of communications protocols, including BiSS C for real-time operations and BiSS Line for single-cable implementations. These are designed to enable efficient communications between digital devices, such as servomotors and drives for industrial motion control systems. They are non-proprietary, based on an open source approach. Licenses can be obtained at no cost from the BiSS Association.
The new certification process is intended to allow manufacturers flexibility in the way that they implement these protocols, while ensuring that they meet high standards for interoperability. Certification will cover master units (controllers) and slave units (servomotors, sensors, actuators) in control systems. Verification testing will be carried out by Arteson, a Germany-based company that specializes in systems integration and testing. 
For more, visit https://www.electromate.com/products-by-manufacturer/posital-fraba/