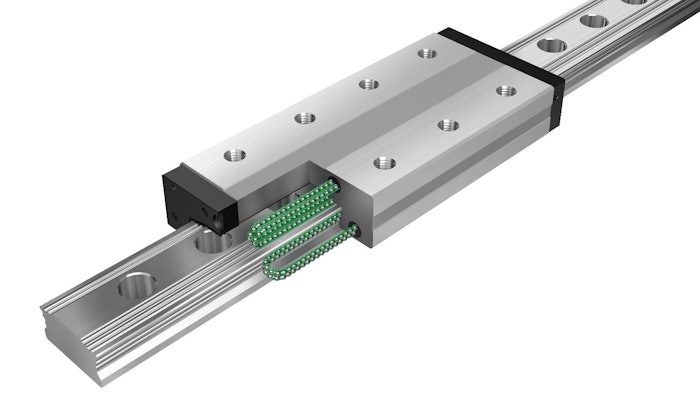 THK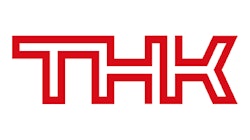 THK Co.
The new Type SPR/SPS Caged Ball LM Guide incorporates unique THK technology to achieve ultra-low waving and ultra-high rigidity.
Featuring additional raceway grooves, ultra-long blocks and an increased number of small-diameter balls, the Type SPR/SPS improves the precision of load-bearing strokes and provides stable motion.
By doubling the number of raceway grooves to eight, the Type SPR/SPS reduces the load on the balls by 50% and enables ultra-low waving on a nanoscopic scale. In addition, the use of ultra-long blocks allows for the incorporation of more balls and further reduces each ball's individual load.
An increased number of small diameter load-bearing balls stabilizes support and decreases compression when under a load. The resulting ultra-low waving performance of the Type SPR/SPS is comparable to that of static pressure guides, while its ultra-high rigidity exceeds that of roller guides.
The Radial Type SPR and the 4-Way Equal Load Type SPS are both capable of bearing loads in the radial, reverse-radial, and horizontal directions. The Type SPR is effective on radial loads when force is applied perpendicular to the shaft. It is suitable for the stroke of heavy machines. 
The Type SPS positions each ball at a contact angle of 45° and bears loads from all directions. It can be used in various positions, such as horizontally and upside down. Rail lengths for both types range from 160mm to 3090mm.
Applications include: 
Semiconductor manufacturing equipment

Ultra-precision industrial machines
High-precision machining centers
Lathes
Surface grinders
FPD manufacturing equipment
Inspection equipment
High-performance measurement devices
To learn more, visit www.thk.com.