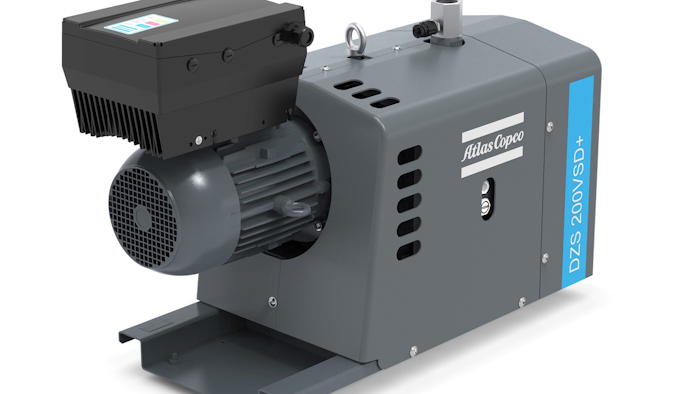 Atlas Copco
Atlas Copco is announcing the launch of three new intelligent VSD+ vacuum pumps.
The DZS 100 - 400 VSD+ series pumps are a range of air-cooled, oil-free claw pumps made for particularly harsh applications. They come with built-in variable speed drive (VSD) and can be controlled remotely by the new VSD+ App.
To better prepare the equipment for harsh application environments, Atlas Copco has also equipped its DZS 100, 200 and 400 VSD+ series with corrosion-resistant materials and a durable internal coating, while also reducing the environmental impact thanks to its low energy consumption, small space requirements, as well as handling of pollutants. The DZS pump range is perfect for conveying, clamping and drying processes, to name just a few applications.
In addition, the design principle supports uncomplicated maintenance. Cleaning or replacing the pump claws does not require gearbox stripping and retiming, enabling quicker and easier access to the inside of the pump. No new synchronization is necessary during the subsequent assembly, resulting in shortened downtimes and lower service costs.
To control the pumps, a VSD+ inverter drive has been integrated into the motors. This allows for the optimum performance points of the claw pump to be specifically controlled and for power consumption to be reduced. This function ensures that energy is saved and that the pumps' CO2 footprint is reduced. 
Advantages of the DZS 100 - 400 VSD+ series include:
Longer-life bearings and seals

Quick and straightforward access
Easy cleaning
Reduced maintenance time
Superior performance
Extensive product range
Superior ultimate vacuum level
Lower power consumption
Minimal machine life cycle costs
Low noise level
To learn more, please visit www.atlascopco.com.