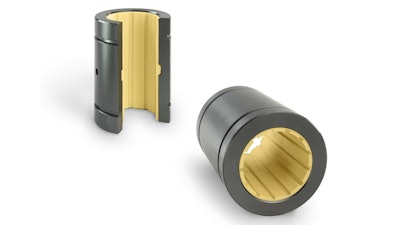 Thomson Industries, Inc. (Wood Dale, IL) has added a polymer bushing to its line of state-of-the-art Ball Bushing bearings. It expands the company's extensive bearing portfolio, providing design engineers a new option that helps them avoid overdesigning for low-load applications. Specifically:
Thomson polymer bushing bearings provide a reliable solution for machines where moment load is non-critical (30-40 percent of linear applications) or contamination and temperature are concerns.

These bearings are also useful for applications that require shafting that is not compatible with traditional Ball Bushings such as 316 stainless steel.

Polymer bushing bearings can handle loads of up to 2,023 lbf (9 kN) and provide a corrosion-resistant alternative for low-load, low-speed applications.

Available in sizes of 6 to 50 mm (closed) and 10 to 50 mm (open), Thomson polymer bushing bearings resist dust and dirt, and operate maintenance-free with reduced noise in temperatures from -58˚F to 194˚F (-50˚C to 90˚C).

They feature an anodized aluminum adapter and are available with aluminum pillow blocks.
www.thomsonlinear.com/en/products/linear-bearings/polymer-bearings