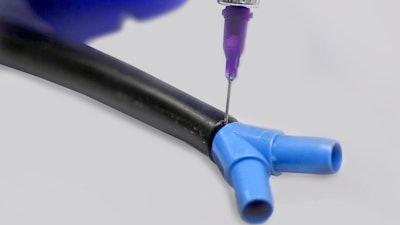 Dymax
Dymax, a leading manufacturer of rapid curing materials and equipment, is excited to announce the release of HLC-M-1000, the first product in its new Hybrid Light-Curable (HLC) series of adhesives.
Hybrid Light-Curable technology is a patent-pending adhesive platform combining the best qualities of anionic and free radical chemistries into one revolutionary formulation. HLC adhesives are the next generation of existing UVCAs and exhibit the exceptional physical and performance properties of Dymax light-curable adhesives and the rapid moisture/contact cure of anionics. The incorporation of contact curing enables instant bonding in dark areas and to a broad range of substrates, including opaque and light-blocking materials.
The primary advantages of HLC materials include fast cure under very low intensity, limited-to-no blooming with proper light cure, better aesthetics, humidity resistance (even without light), and more flexible bond joints than other CAs. Substrates do not need to be translucent, and exposure to light curing increases bond integrity while reducing blooming in exposed areas.
Dymax products with HLC technology provide an alternative to existing chemistry types on the market, including 1- and 2-part epoxies, cyanoacrylates, hotmelts, mechanical fasteners, RTV silicones, PSAs, and UV acrylics. HLC materials require no primers and are an excellent choice for companies seeking to optimize manufacturing processes and eliminate the need for multiple chemistries and additional steps associated with traditional bonding methods.
Other potential advantages of HLC materials include less heat generation during cure, high gap-filling properties, and reduced stress cracking. The materials also exhibit low-to-no surface tack and are safer to use. These attributes help contribute to productivity improvements and cost reductions in the assembly process.
The first product in the series, HLC-M-1000, is designed for medical device assembly. The adhesive meets various biocompatibility standards and is well-suited for bonding applications on catheters, tube sets, diagnostic and therapeutic devices, autoinjectors, and endoscopes. Its built-in moisture/contact cure feature enables complete adhesive curing in dark areas.
HLC-M-1000 cures rapidly with broad-spectrum light and is LED optimized at 405 nm, and it can also cure at very low intensity (~ 20 mW/cm2). The material begins to cure instantly upon substrate contact, with the ability to expedite and improve the cure with light exposure. Other desirable characteristics include a tack-free surface after light cure, a 3 cP wicking grade viscosity for very tight-fitting assemblies, and compatibility with many plastics and metals.
Dymax has also developed dispensing systems specifically for these hybrid light-curable products to follow best dispensation practices. The systems limit potential issues associated with down packing, such as premature cure inside fluid lines and packaging caused by foreign matter or accidental air (moisture) exposure that can cause accelerated aging and also prevents bubbles. Users can choose from various controllers, valves, material reservoirs, and pressure tanks to create configurations that meet their manufacturing needs. These complete systems enable precise, contaminate-free dispensing of HLC materials onto components.
An expert team of Dymax application engineers and system integrators is available to answer technical questions about HLC technology, customize dispense solutions, assist with material handling challenges, and support customers throughout the life of their manufacturing process.
Additional HLC materials for medical devices and industrial applications will be released later this year.
By utilizing Dymax products, manufacturers can increase production rates, lower labor costs, and realize the benefits of high performance, improved quality, and reduced waste. All Dymax light-curable materials are solvent-free, one-part, 100% solids, and RoHS compliant, making them eco-friendly for businesses striving to meet green initiatives.