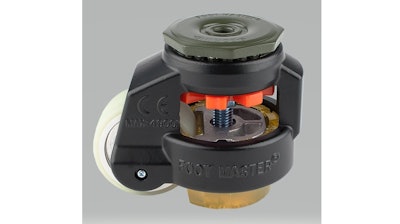 G-DOK Industries (Grand Rapids, MI) has announced the introduction of new mounting options and premium urethane wheel and pad materials for its FOOT MASTER Leveling Casters.
FOOT MASTER Leveling Casters combine the mobility of a caster with the adjustability of a level mount and the stability of a foot pad. This makes them ideal for a wide range of applications, including medical equipment, laboratory equipment, industrial machinery and more.
In addition to the original threaded stem mounting for fixed-foot replacement applications, FOOT MASTER Leveling Casters now offer U.S. and European standard top plate mounting options for easier caster retrofits. This means that customers can more simply replace existing casters with FOOT MASTER Leveling Casters without having to modify the equipment.
G-DOK Industries has also expanded its wheel and pad material offerings for FOOT MASTER Leveling Casters to include premium urethane. Premium urethane wheels and pads are ideal for applications that require increased protection for high-quality flooring or where sensitive equipment is involved. They are also resistant to chemicals and other harsh substances.