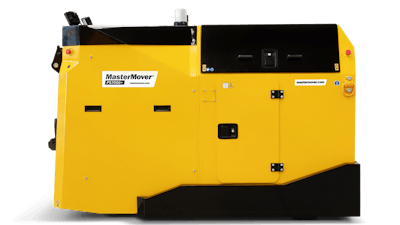 MasterMover (Charlotte, NC) has announced the launch of its new remote-controlled PS7000+ model, featuring an impressive load-moving weight capacity of 154,000 lbs. and patented MultiLink technology.
Designed to enable a single operator to safely move loads of up to 154,000 lbs. with a single machine, the PS7000+ is the ideal solution for heavy industrial manufacturing industries, where moving large, heavy loads presents serious challenges around operational efficiency and safety.
Featuring a remote control operation, the PS7000+ allows an operator the ideal vantage point when conducting the movement of a load, delivering unparalleled visibility and maximizing safety.
With the launch of the PS7000+, a single machine can move up to 154,000 lbs. Through MasterMover's innovative MultiLink technology – a patented system enabling the multiple electric tuggers to work together with a single operator – the weight capacity is increased, meaning the PS7000+ is equipped to take on the most extreme movements of heavy-wheeled loads.
The PS7000+ adds additional weight-moving capacity to the PowerSteered range of remote-controlled electric tuggers from MasterMover. Offering a more compact and flexible alternative to traditional material handling systems, such as overhead cranes, fixed rail systems and large, high-capacity forklift solutions, the PS7000+ helps industrial manufacturers discover greater efficiency and flexibility, while driving safer operations.
www.mastermover.com, 980-263-2210