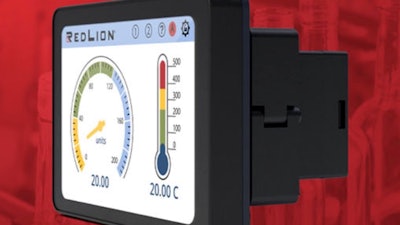 Red Lion
Legacy equipment in plants can make it difficult, time-consuming and costly to extract data from the machines to help improve performance. Red Lion's newly launched graphical panel meter, PM-50, is designed to change that. Available now through Allied Electronics & Automation, the new wireless, smart panel meter makes it easier for machine operators to unlock and use data from their factory floor. 
The PM-50 can be used in industrial factories, food and beverage, water/wastewater and packaging plants, and anywhere else panel meters are currently used. Harvesting plant data is as simple as unplugging the old meter, inserting the PM-50 and connecting it to Wi-Fi. Its graphical interface is intuitive and similar to personal smart devices most operators are comfortable using every day. Built-in Wi-Fi connectivity delivers data from the panel meter to the operator's smartphone or tablet using the Red Lion app. The app provides a simple upgrade path for future improvements. Wired connectivity is also available via Ethernet and Modbus.
The PM-50 comes with various display options, providing operators with multiple displays about the process to help drive efficiencies. The display changes colors based on needs so workers can react accordingly, including a red panel indicating that immediate attention is required. Additional screens with the smart panel meter provide more data within one meter, enabling the machine operator to be better connected to the machine and each job's requirements.
Smart device connectivity allows the operator more freedom to move around and monitor additional equipment while still being connected to the status and output of their machine. The app allows this monitoring and provides alarm indication when the machine is not running correctly or the job is completed.
Adding additional equipment, like a human-machine interface (HMI), could allow a single operator to manage a bank of machines, which increases efficiency and allows factory owners to reduce their labor footprint.
For more information, visit www.redlion.net.