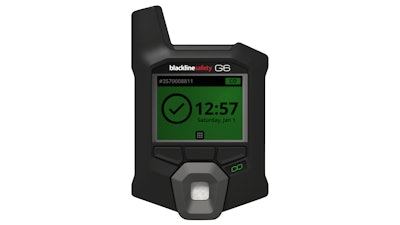 Blackline Safety Corp.
Blackline Safety Corp. (San Diego, CA) launched a new connected wearable to transform single-gas detection.
The all-new G6 personal gas detector – unveiled at the National Safety Council (NSC) Safety Congress & Expo in San Diego – offers fast incident response time and a more efficient way to manage safety and compliance.
A fully connected and intuitive solution that leverages the latest in Internet of Things (IoT) cellular connectivity, G6 delivers:
Longer battery
Lower cost of ownership
Fewer false alarms
Access to the trusted data they need to manage their safety protocols, processes and ongoing compliance more effectively and efficiently
Built-in capabilities of G6 include:
Proven direct-to-cloud cellular connectivity that works straight out of the box.·
Complete safety management through the Blackline Live software portal, with the ability to view an entire fleet of devices from a single screen and deliver automatic, over-the-air firmware and configuration updates.·
Improved incident response time supported by real-time notifications and GPS mapping.
Sensor options to quickly alert workers to exposure of toxic gases, including hydrogen sulfide (H2S), carbon monoxide (CO), oxygen (O2) and sulfur dioxide (SO2).·
Higher precision short-term exposure limit (STEL) monitoring.·
More accurate data that reduces false alarms and drives powerful reporting and analytics.
Long-life rechargeable battery that lasts up to one year.·
Ability to quickly locate devices when lost or stolen.·
Device life of up to four years.
Ideally suited to large industrial organizations in the oil and gas, petrochemical, manufacturing, utility and renewable energy sectors, G6 allows users to access important single-source data from anywhere, at any time, on any Web-enabled device and then analyze it through Blackline's advanced reporting, visualization and data analytics software.
G6 comes with a full warranty and flexible purchase options that include the ability to own or lease to maximize CAPEX or OPEX budgets. First product shipments are scheduled for late October.