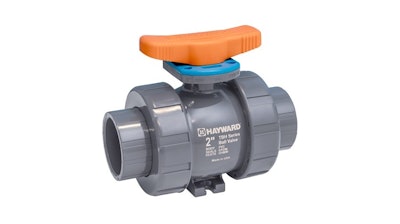 To support the efforts of our customers to detect and remediate PFAS (PFOS and PFOA) in their systems, Hayward Flow Control (Clemmons, NC) announces the introduction of UHMWHDPE (Ultra-High Molecular Weight High Density Polyethylene) seat material option for its industry leading TBH Series True Union Industrial Ball Valve, a global industry first for thermoplastic valves.
An extremely durable material, UHMWHDPE material features high impact & crack resistance, low friction, excellent abrasion resistance and good chemical resistance, making it ideal for valve seats. For many of the applications where PVC and CPVC valves are specified, UHWMHDPE can be used. In addition, the TBH Series True Union Ball Valves with UHMWHDPE seats are assembled using PFAS-free lubricants.
UHMWHDPE seats are available with TBH Series ball valves sizes 1/4˝ through 2" / DN15 – DN50 in PVC and CPVC construction and support the full pressure ratings of the TBH Series True Union Ball Valves.
Other Key Features, Benefits and Advantages of UHMWHDPE Seats include the following:
Non-toxic or leaching.

Recyclable.

Highly resistant to corrosive chemicals.

Reversible UHMWHDPE seat design.

Available in combination of FPM or EPDM seals.

Backed by Hayward's Global 3 Year Warranty.

Made in the USA.